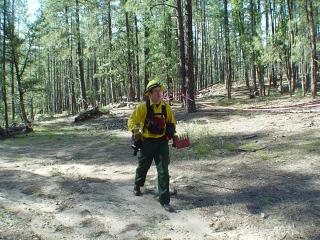 I plan to rerun this a couple times. Thank you so far!
As some of you may know I am very involved with our local volunteer fire department, the Walker Fire Protection Association (WFPA). I was recently named co-assistant fire chief, I am also vice-president of the board of directors after having been treasurer for the last two years.
We have 20-25 active volunteers. This is a picture of me from a drill we had last weekend.
Below is a picture of our fleet of vehicles which is very antiquated (the white truck is just for parades). We have $15,000 set aside in a vehicle fund. We need another $10,000 to buy a late model pick up truck that we can then fashion into a brush truck, also known as a type six.
I am making an appeal to my readership. During the week this site gets 800-900 hits per day. Taking the mid point, 850, I am asking anyone that reads this site to donate $11.77 to the WFPA which will raise the $10,000.
The
WFPA web site
has a link to make a donation via Paypal about half way down the page that I am linking to in this post. In case the link I pasted is bad, here is the address,
http://walkerfire.org/fire.htm
.
The physical address is;
WFPA5881 Walker RoadPrescott, AZ 86303
I can provide a tax ID number to anyone, after they have donated, for tax purposes, just let me know.
This is very important to me. Hopefully you will indulge me in this little effort as I plan to republish this post a few times.
Thank you!!